Tool, die & punch
manufacturing
Press
production
Since

1973
We have moved!
Matriform is now at its new location,
since early august 2015.
Ready for production! New location:
785, 16e rang ouest, Villeroy (Quebec) G0S 3K0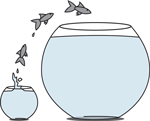 Welcome
Matriform is online to better meet growing demand.
Since 1973, we have provided services for the design and manufacture of tools, dies and punches and the stamping of parts according to your specifications.
We also design and develop our own line of parts for various sectors of industry.